A different, wild and sportive Sardinia for your holidays. This is the promise of Pedra Rubia, a sportive association born in the deep hearth of Sulcis iglesiente, in the South West of Sardinia.
Our mission is to propose travel experiences to make your holidays exciting, funny and active. Our services are guided tours by Mountain Bike, Trekking or Free Climbing, which means visits to the crags with us. 
Pedra Rubia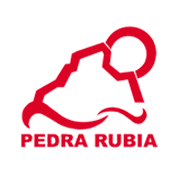 provides logistic support, information and guided experience to make your trip safe and attractive.
To promote the rock paradise of these areas we built the website arrampicatasardegna.com, focus on free climbing in all the sectors of South Western Sardinia. 
On the website PedraRubia.com you could find tens of travel trips to chose your tours of  trekking and mountain bike with us.
what can you do with Pedra Rubia?
Pedra Rubia
 offers travel experiences to conquer the territory in a slow, deep and sportive way. You can visit by mountain bike forests, like Marganai's forest, Canyons, as the one of Gutturu Cardaxiu, and old and abandoned railways to get to wonderful beaches, like  Cala Domestica. 
Trekking tours on path and old trail of miners lead to spectacular beaches and breathtaking cliffs by the sea, as for the Tour of Cinque Faraglioni of Nebida, or the Masua trekking towards the Cave of the Spigole at Canal Grande of Nebida. 
The most attractive crags for free climbing are here: the crag by the sea of Masua or the Canyon di San Nicolò and Gutturu Cardaxiu, both really close to the cost.
Perfect slab limestone also in the famous sector of Punta Pilocca and Amante Stregata del CAI.
why visit Sulcis Iglesiente?
Sulcis Iglesiente in the Sout West of Sardinia is a magic land, yet outside of the crowded trips of classic tourism. The result is that the landscape is unique, wild and for very few people who love a peaceful atmosphere into a perfect nature. Here the red light of sunset makes every views fantastic, as for Pedra Rubia, literally Red Stone.
Look our gallery to taste the Sulcis Iglesiente flavor.
Contact PEDRA RUBIA
Pedra Rubia's Contacts. English and French spoken.

The website of Pedra Rubia is pedrarubia.com
Call this numbers:
Marco: +393488521863 – Tiziana: +393208410636.
Send an email to info@pedrarubia.com. or use the contact form of Pedra Rubia.