Arrampicata Sardegna (Climbing Sardinia) was founded by Pedra Rubia, an entity created to promote outdoor sports in Sardinia, in particular in the area of Sulcis and Iglesias.
The idea is to suggest alternatives to the typical summer holiday, and offer the opportunity to see new and exciting sides of Sardinia, besides the sea.
ArrampicataSardegna.com is our first site and is focused on climbing in Southern Sardinia. A fundamental reference point for this site was Maurizio Oviglia's guide, "Pietra di Luna", which is the landmark guide for climbing in Sardinia.
Pedra Rubia B&B for Climbers in Sardinia
In December 2014 we opened a Bed and  Breakfast in Nebida, the small village in the coast of Iglesias, in South Western Sardinia. We target the B&B to climbers and outdoor fans, giving them support and info. For example, through Pedra Rubia, we offer climbers a transport service to the crags and free loan of equipment for those who prefer to travel light and just bring their climbing shoes and harness with them to Sardinia. Visit the website of our B&B Pedra Rubia!
Marco is a Mountain Guide (the first mountain guide that lives all the year in Sardinia).
In his websiite  some of the climbing events he organized: bigalpineguide.com.
Here some of the climbing events he organized: Climbing Courses.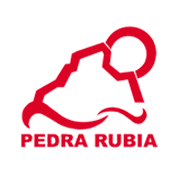 Who is Pedra Rubia?
For now, two people, Marco and Tiziana, who will introduce themselves here. Come to visit Pedra Rubia website now!
Marco "Biga" Bigatti
My name is Marco Bigatti, nicknamed "Il Biga". I was born in Milan on February the 28th 1980. I started climbing in 2006 and since then I have not been able to tear myself away from the vertical world. I turned my passion into a job, becoming Mountain Guide in October 2017, the first mountain guide that lives all the year in Sardinia.
I experience the mountains from a 360-degree point of view. I have practiced all disciplines of climbing in the Alps: rock climbing (e.g. Diedro Casarotto, Via dell'Ideale, Hasse – Brandler ), alpinism (Route Ginat on the Droites, Route Brioschi on the east of Monte Rosa , the Adamello's north face, Ortless North face), ice climbing (e.g. Ice-falls of Repentance , Supercouloir, Crack Baby), as well as ski mountaineering.
In addition to alpinism, I love pure sport climbing, seeking out the best climbing sectors throughout the entire Alpine range, as well as in Spain and Kalymnos. But it was in Sardinia that I found a paradise of crags, in particular in the south-west of the island, where you are able to enjoy all types of climbing throughout the year. Here you can enjoy a breathtaking landscape and superb rock.
This is where the idea for Pedra Rubia and Arrampicata Sardegna came from: to make this area known to all fans of this great sport. My other passions are mountain biking (for which I  am a qualified MTB guide) and the sea for all that it can offer.
Here Marco's website bigalpineguide.com.
Find Marco also on facebook: facebook.com/marco.bigatti
Tiziana Dedola, alias "tittideda". where Sardinia
I'm Tiziana Dedola, I was born in Sardinia, in a small village near Nuoro, Bolotana, but since 1995 I have been living far from my island because of my studies and my career.
The most recent city to host me on my travels is Milan, where I've definitely nurtured my passion for outdoor sports. Paradoxically, it is far from my land that I discovered rock climbing.
I started to really get into it from about 2010, and only realized later that Sardinia is a free climbing paradise. I also practice acrobatics, yoga, mountain biking and hiking. While Marco embodies the sporting spirit of the Pedra Rubia, I'm the promotional "soul", having worked in online communication and Web Marketing for more than ten years. In fact, it was during my recent job with an advertising company in Milan that I met Marco. The rest is easy to understand.
We fell in love with the idea of ​​Pedra Rubia and we are ready to welcome you and lead you to discover a different Sardinia. I found where Sardinia Guided Tours to show you a pinch of the soul of Sardinia!
Find Tiziana also on facebook: facebook.com/tiziana.dedola or have a look on her website wheresardinia.com.
Join us on facebook or write an email at info@arrampicatasardegna.com.
Come to visit Pedra Rubia website now!
Here the website of the Pedra Rubia B&B.