Free Climbing Course in south Sardinia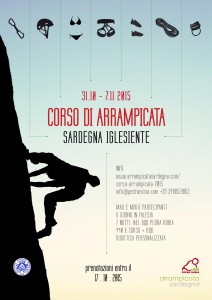 Discover the New Edition of the Climbing Course in Sardinia in November 2015.
Here all the info: http://www.arrampicatasardegna.com/en/climbing-course-2015/

Program of the past course in April 2015:
We organize a week of climbing with the Alpine Guide Francesco Pitonzo to learn and improve your climbing techniques, having as frame the beautiful area of ​​Sulcis-Iglesiente, in South Western Sardinia.
The Climbing Course will last one week at Easter, from the 3rd to the 11th of April 2015.
The basic techniques of climbing will be taught in the beautiful crags of the area.
In addition to climbing lessons, visits will be organized in some of the most beautiful corners of Sardinia. We will be staying for the entire period of the course at the B&B Pedra Rubia, located in the charming seaside town of Nebida (Iglesias).
Here is the course program:
Friday 3rd April 2015
Fly to Cagliari,  meeting at the Cagliari Airport, transfer to Nebida and accomodation at the B&B Pedra Rubia, dinner
Saturday 4th April 2015
Day of Climbing at Domusnovas' crags and visit to the cave of St. Giovanni , dinner at home
Sunday 5th April 2015
1/2 day of climbing at the canyon of Gutturu Cardaxius and visit to the beach of Cala Domestica, dinner
Monday 6th April 2015
Day of Climbing at the crag of Punta Pilocca, dinner at home
Tuesday 7th April 2015
1/2 day of climbing in the crag by the sea of Masua and relaxing at the beach, dinner
Wednesday 8th April 2015
Cultural Trip at the archeological area of Monte Sirai and Excursion in Kayak, dinner at home
Thursday 9th April 2015
Day of Climbing at the Canyon of San Nicolò, dinner
Friday 10th April 2015
Trekking tour by the coast of Masua and Canal Grande and possible climbing in the evening, dinner at home
Saturday 11th April 2015
Day of Leaving, Transfer to Cagliari

Rates

The price of the Package is 950€ per person and includes:
Climbing Course with Alpine Guide
8 nights at the B&B Pedra Rubia in double bedroom w/ private bath
8 breakfasts
8 dinners
7 packed lunches
Visit to the archeologic area of Monte Sirai – Carbonia
Kayak tour
Trekking Masua-Canal Grande tour
The price does not include the fly cost or any other transport cost from your departure place to Cagliari Airport/Station and car rental. It does not iclude what is not specify in the program. 
Terms and Conditions
The program of the week may vary depending on the weather, sea conditions or the composition of the group.
Necessary gear: harness, climbing shoes and helmet.
The other equipment (ropes, carabiners, quick-drop, gri – gri will be provided by the organization).
How to Book the Course
50% deposit (bank transfer or cash) and the balance at the start of activities (first day of arrival).
Minimum number of participants: 6.
For Booking or info, please contact:
Marco Bigatti: +393488521863
info@pedrarubia.com